How to use roundtrip to export digital heritage metadata and media assets
As part of Mukurtu CMS' roundtrip features,you are able to export digital heritage items, including metadata and media assets. Exported content can be migrated elsewhere (such as to another CMS, shared with another organization, or preserved and backed up), or edited and then re-imported to your existing site.
Similar to batch import, exporting content is only available to Mukurtu Administrators.
To learn more about batch importing content, see How to Batch Import Digital Heritage Items Only, and How to Use the Zip Importer to Batch import Content into Mukurtu.
From the Dashboard, select Export Digital Heritage Metadata.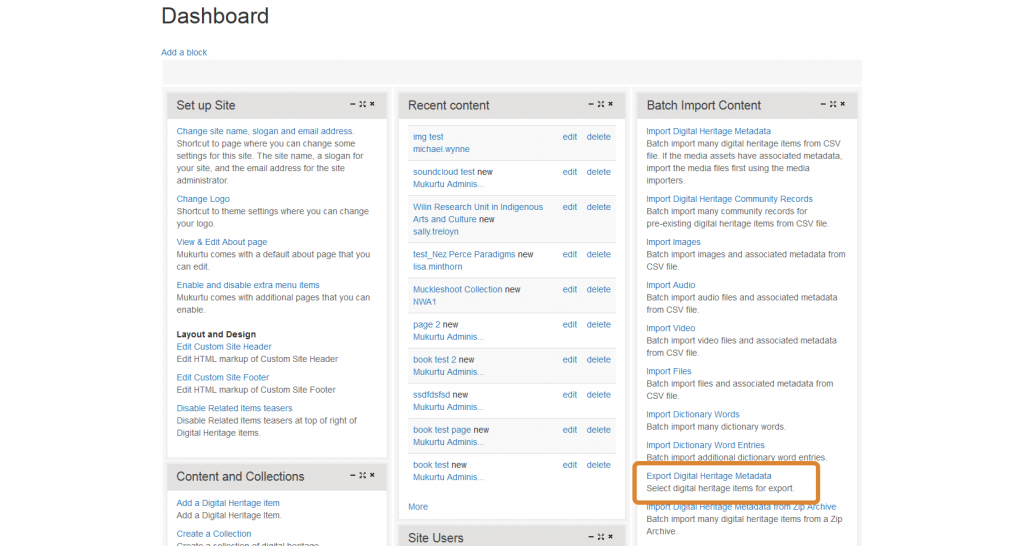 From here, apply the filters from the top half of the page to refine the search results. You can export everything from a single item to the entire site.
Select the desired items using the check boxes on the left, then select Export Digital Heritage Items and click Execute.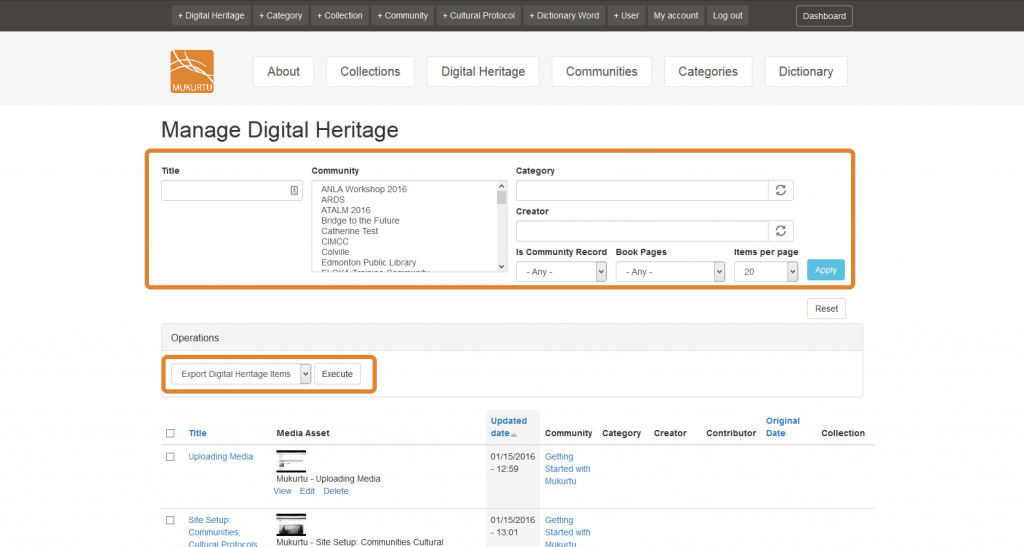 This screen controls the export options.
To export content that will be edited and re-imported to the same site, select Export local item IDs. To migrate content elsewhere, deselect this option.
Choose how much content to export: just the single digital heritage item, community records, subsequent book pages, and/or related items. This choice applies to all items selected on the previous screen.
Choose whether to export only metadata (which will produce a single .csv file), or to include media assets and additional site structural metadata (which will produce a ZIP archive).
Leave the export format set to CSV.
Leave the CSV Column delimiter set to semi-colon (if migrating to another system that uses a different delimiter, you may want to select a different option).
Click Next.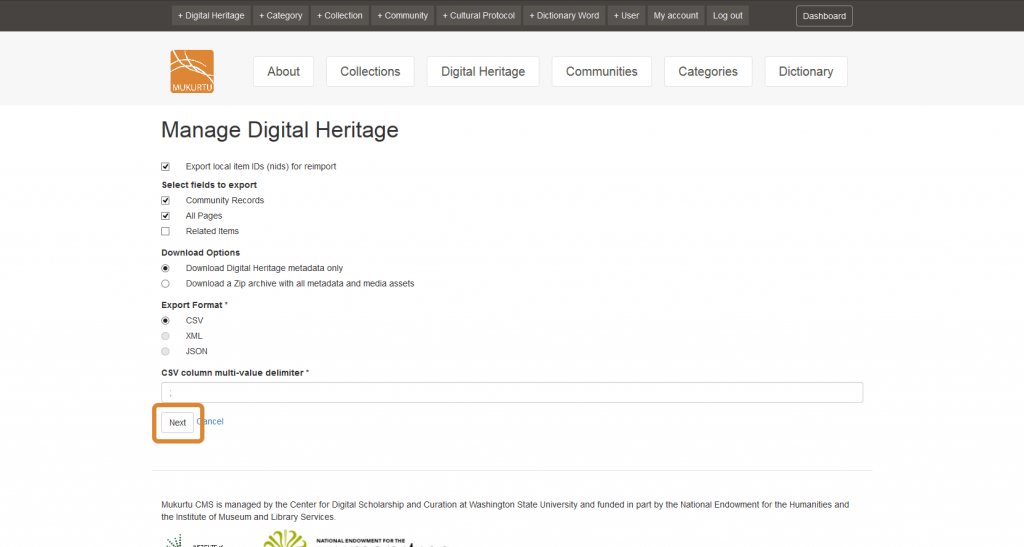 This page will list all the items selected (including all book pages).
Click Confirm.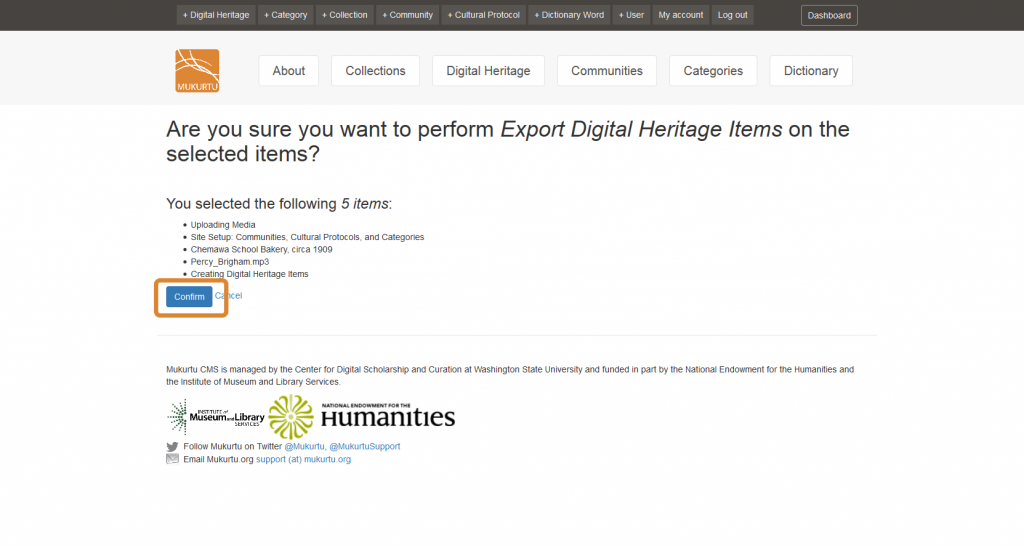 Wait for the export to complete. If exporting media and/or a lot of records, this may take some time.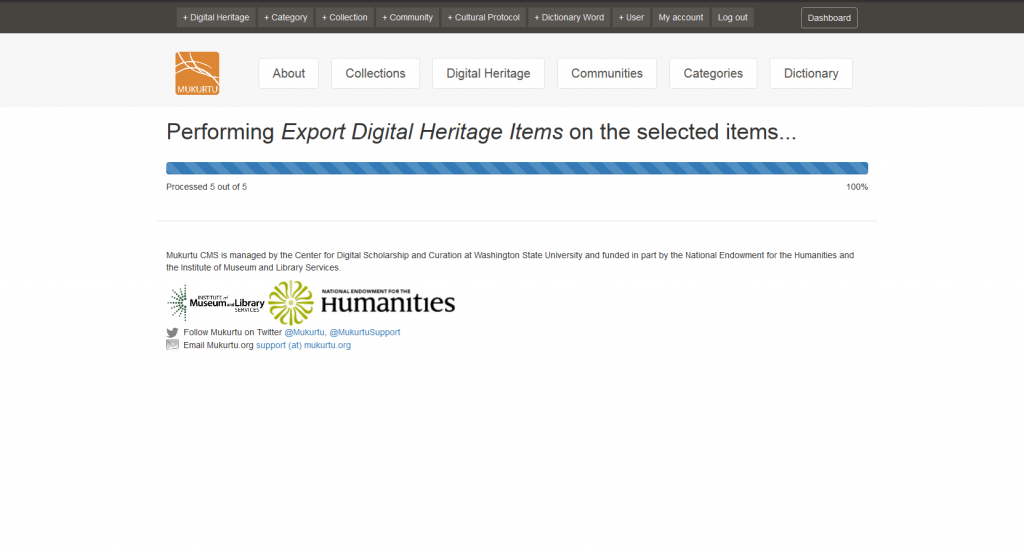 Click Download to download the export.

This export is metadata only, so a .csv is exported. If media was also exported, a ZIP archive would be downloaded. Save the file/archive to your computer as prompted by your operating system/browser.
You can now edit this metadata (and/ potentially media) for re-import, share it as needed, or include it in the rest of  your digital preservation plan.